Binding Comic Books #2: Starman, Sandman Mystery Theatre, Blue Beetle, American Century
After I
got my complete Giffen/DeMatteis Justice League run bound into four handsome volumes
by
Library Binding Company
in Waco, Texas, I immediately started planning my next comic book binding project. Combing through what was left of my collection, I prepped a few more complete runs by tearing out double-sided ad pages and back covers, coming up with enough material for nine new hardcover volumes.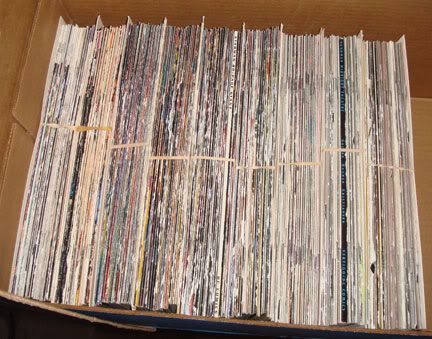 When all was said and done, I had torn out three inches of ad pages -- almost two entire custom-bound hardcovers worth of pages!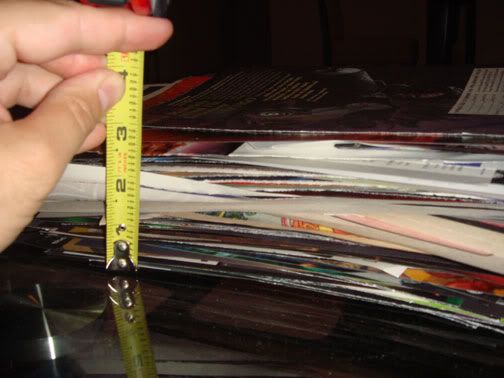 This was a larger order so it took them longer to process, but I was thrilled to receive the finished products earlier this week. Of course, everything looked beautiful and came out great.
I collected James Robinson's Starman, my all-time favorite series, into four volumes with all possible tie-ins placed chronologically in terms of the story. In addition to Starman #0, 1-80, and 1,000,000, I found places for the two Annuals, the 80-Page Giant, the Secret Files and Origins issue, the Shade miniseries, the Batman/Hellboy/Starman miniseries, the Mist one-shot, the Power of Shazam! crossovers, Stars and STRIPE #0 (as important to the Starman mythos as it was to the new Star-Spangled Kid/Stargirl character), a short story by Robinson about Jack Knight (Starman) taking a boxing lesson from Wildcat (from the All-Star Comics 80-Page Giant), and even a JSA All-Stars issue that came out after Starman ended, reteaming Robinson and artist Tony Harris on a Golden Age Starman story. (I placed that one at the end of the final volume since it came out most recently, despite being a flashback.)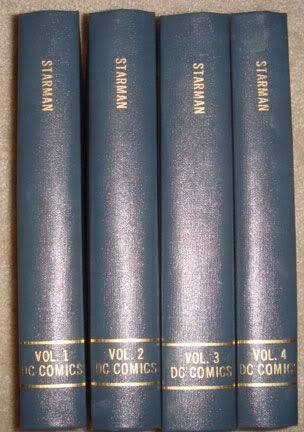 My custom Tables of Contents: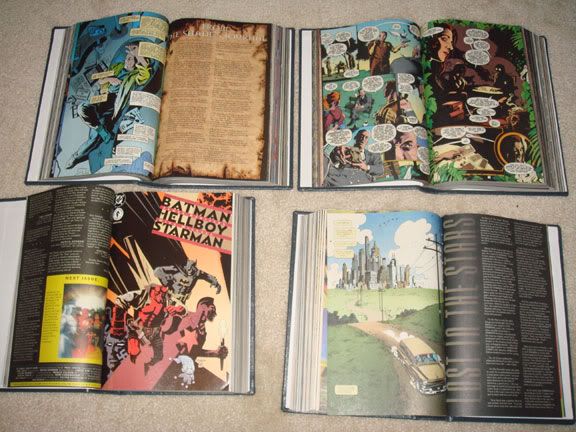 Sandman Mystery Theatre came next, a Vertigo series focusing on the late '30s and early '40s adventures of Wesley Dodds, the Golden Age Sandman. This mystery man had a real sense of style, dressing in a suit, trench coat, fedora, and gas mask, and carrying a gas gun that put criminals to sleep. This crime-noir period piece was often dark and violent, but featured a tender and well-developed relationship between the bookish hero Dodds and his resourceful life-long lover and partner, Dian Belmont.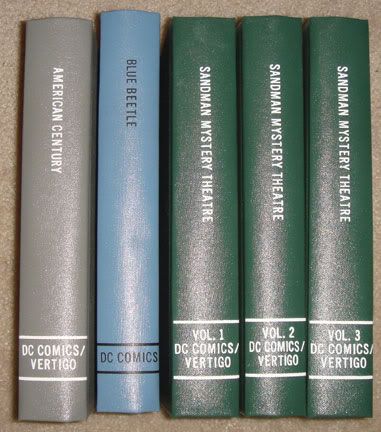 In addition to the 70 issues and a single Annual, I included Sandman Midnight Theatre, an original graphic novel that tied the Mystery Theatre version of Sandman into Neil Gaiman's mythological dream king Sandman.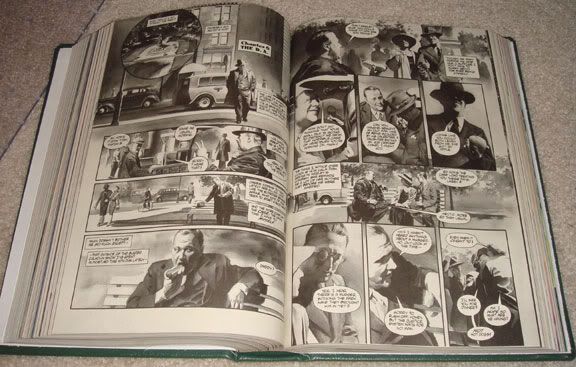 I also made sure to fit in the two short Sandman Mystery Theatre stories from Vertigo: Winter's Edge, a holiday-themed anthology. Here is the wraparound cover from Winter's Edge #2 by Mike Allred, one of my favorite artists: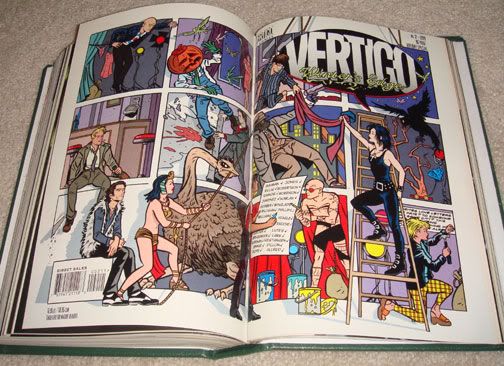 I also collected Len Wein's complete '80s Blue Beetle series into one volume (24 issues preceded by Beetle's origin story in Secret Origins #2), and Howard Chaykin's gritty, sexy Vertigo adventure series American Century into one volume (all 27 issues). Note my snazzy custom Tables of Contents for Sandman Mystery Theatre volumes as well.
Anyway, here is my full library of custom-bound hardcovers, including my four Justice League volumes: