Make mine MEATCAKE!
This is how you create that mammoth of meals disguised as a dessert, the hearty and delicious
Meatcake
. Like robots that transform into cars, the
Meatcake
is more than meets the eye!
Ingredients
5 pounds of ground beef
(don't worry about getting the expensive lean stuff for this recipe!)
2 cups of dry bread crumbs
(I like the Vigo brand bread crumbs with romano cheese for a more robust flavor, but you can use Progresso or the Jason brand kosher bread crumbs if your friends keep kosher as some of mine do.)
4 eggs
1 small can of plain tomato sauce
Minced garlic
Finely-chopped sweet Vidalia onion
Ketchup
Barbecue sauce
Worcestershire sauce
Tabasco Chipotle sauce
Liquid smoke
Gulden's spicy brown mustard
Brown sugar
Old Bay seasoning
Basil
Oregano
Adobo
Cumin
Paprika
(regular or smoked; I have both so I used both!)
Chili powder
Garlic powder
Black pepper
Kosher salt
Red pepper flakes
Whatever else you have on hand that you like!
Keep separate:
1 box instant mashed potatoes (usually potato flakes) -- follow the instructions on the box, which usually call for salt, water, butter or margarine, and a bit of milk.
Recipe
1. Preheat oven to 350 degrees. (This is the easy part.)
2. Combine the meat, bread crumbs, eggs, and and a good bit of every spice, seasoning, and condiment you have in the house in a large mixing bowl, as you would a meatloaf. You're going to need to use your hands, so make sure the meat isn't ice-cold.
3. When mixed evenly, divide the meat into three round disposable aluminum cake pans, then top each one with a blend of ketchup, barbecue sauce, and brown sugar so it will form a nice, sweet, crusty red glaze on top when they go in the oven.
*(No pictures for this part because my hands were covered with meat and ketchup and other greasy, sticky, slimy stuff.)*
4. Bake them for an hour at 350 degrees and carefully drain the orange-red liquid fat, preferably into an empty glass jar rather than down your sink. Put the meatcake discs in the fridge overnight, covered with plastic wrap, ideally still in their aluminum cake pans.
5. When they're chilled and hopefully firmed up, use a long, sharp knife to shave off the tops and sides of the three meatloaf discs to get them to be even, flat, and round (or at least moreso than they were before. Perfection is unnecessary.)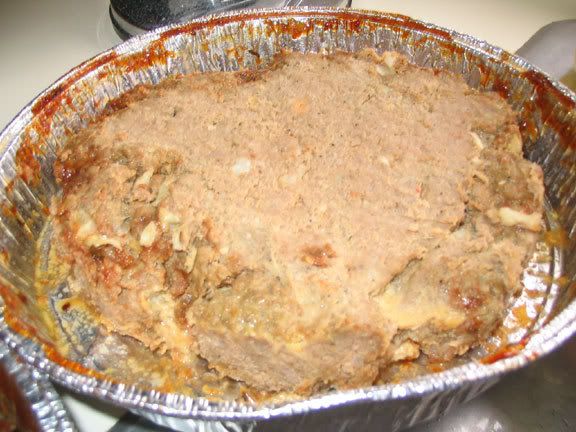 6. Put them back in the oven just long enough to heat them back up.
7. Meanwhile, whip a quick sweet tomatoey sauce by simmering a can of plain tomato sauce with some worcestershire and brown sugar, stirring constantly.
8. Cook up some instant mashed potatoes -- believe it or not, I used the equivalent of 8 cups, although I didn't follow the box instructions by adding milk. Mashed potato purists, feel free to sneer, but you really need the smooth, uniform consistency you get from the instant potato flakes.
9. Scoop the instant mashed potatoes into a plastic Ziploc baggie and snip a tiny hole in one corner, so you can use it like a pastry bag.
10. Stack the meat discs on a large plate: a foundation meat layer with a ring of potato icing from the bag to act as a gasket, and tomato sauce inside the ring. Follow with a second meat layer, another potato ring, and more sauce inside it, and top with the third meat layer.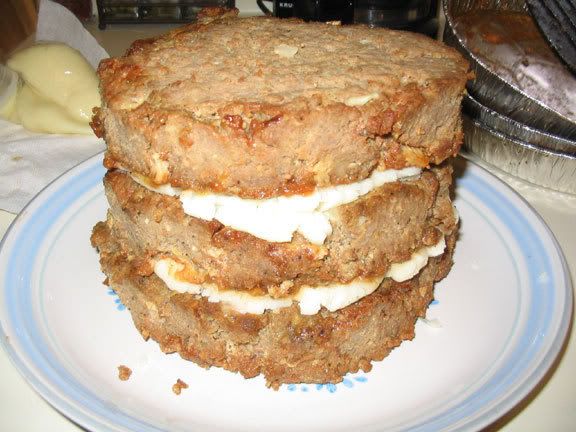 11. Stick in some short bamboo skewers to keep them from sliding or falling apart. 6" skewers worked well for me, and I still had to snap off the protruding tops. Trust me on this one, you'll be glad you had these!
12. "Ice" the triple-decker
meatcake
just as you'd spread and smooth icing over a real dessert cake. If you have extra mashed potatoes, you can use your "pastry bag" to squeeze out little artsy flourishes around the top and sides, like you'd see on a cake. (This is where you may add food coloring for some real style points, but you don't want to gross out your guests to the point where they won't try it.)
13. Fill another Ziploc baggie with the tomato sauce and snip a tinier hole in the corner. Use this to squeeze a ring of sauce carefully around the top circumference of the
meatcake
, and another ring around the bottom, along the plate (to mimic a "strawberry sauce" effect).
14. Cut out slices (taking great care not to eat the bamboo skewers) and serve it like a real cake: layers of rich brown meatloaf with red tomatoey goodness between them, all iced with tasty smooth mashed potatoes and a sweet red sauce. It's an entire hearty meal... in cake form!
MEATCAKE!